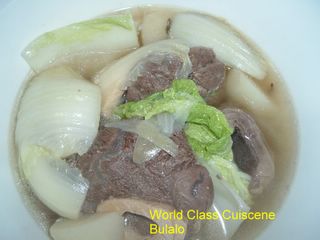 I wasn't particularly ill the day my husband cooked this for us. I just wasn't feeling fine. I could tell he was itching to cook these shanks. He's a person who loves to have soupy dishes. In fact it was him who bought this when we went grocery shopping. I slept on the couch while watching a show and he didn't bother waking me up. He turned on the stove, prepared the pressure cooker and kept it going. It was the whistling sound of the pressure cooker that made me drift in and out of my sleep.

He only woke me up when it was time to eat. Guess what? He took this picture too. I must admit that it was good. More patis and kalamansi please...and back to the couch again.
That day, I could say my kids and my husband were very excited to have a command in the kitchen. They had fun slicing the veggies and guessing what to put in the dish. I heard my husband asking my son to turn on the computer and look for bulalo recipes. The aftermath was left for me to deal with the next day.