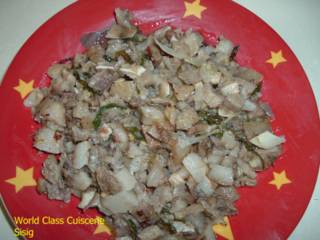 More leftover stories! So this is another Filipino pulutan. It could also be an appetizer. I have tried avoiding foods like this but my friend gave half of a pig's head to me before Christmas. She wanted to have the whole but had no faith that she was going to give justice to it.
My husband's eyeballs were of course popping with excitement. In his mind we were lucky to have even just half of it. We haven't had this for a long time. Mind you, I was so guilty at the end for being a devil's advocate. Every bite I had scared me to death. Time to hit those exercise machines I guess.
2/3 cup of coarsely chopped shallots
1/3 cup of vinegar
salt to taste
1/2 cup of green onions finely sliced
pinch of sugar
1/2 tsp of ground pepper
2 tsps of finely chopped green hot chilies
I boiled the pig's head in a big saucepan for about 30 minutes or until I could literally separate the skin and flesh from the skull. I sliced the meat into small pieces, the way you'd normally slice carrots for soup. Oh well, not that clear but get the idea from the picture, okey?
In a pan, heat the oil and saute the shallots until shallots are transparent. Add the meat and cook for about 10 minutes. Add the rest of the ingredients except for the green onions which should be added after the stove is turned off and the meat just about ready to be served.
Eat with guilt!