This is one of my memorable dishes when I was dating my boyfriend, now my husband over 17 years ago. This is easier to cook than you think.

You see when you're cooking the beef Kare-kare, the one that really takes your time is making your meat tender. Here, all you have to do is steam your shells and any other seafood you would like to add like squid and shrimps and then add them to your kare-kare base.


Ingredients:

10 pieces of mussels
10 pieces of clams
10 pieces of prawns
1/4 cup of slices of squid (the one you normally use for calamari)
1/4 cup of abalone (optional)
or any other seafood you want to add

10 pieces of long beans cut into 1.5 inches long
1 medium eggplant
1/4 tin of canned banana blossoms
4 tbsp of peanut butter
1 pack of Mama Sita Kare-kare mix (yes, I cheated), diluted in about 1 cup of cold water

Steam the seafood for about 8 minutes or until shells slightly open. Set aside.

In a saucepan, saute the eggplant and long beans for about 5 minutes. Add the banana blossoms. Add the diluted kare-kare mix and the peanut butter. Let boil for about 1 minute and then reduce the heat to avoid the mix from concentrating at the bottom of the pan and getting burnt eventually. Add another 1 cup of hot water. Sitr in the steamed seafood. Cover the saucepan and let it simmer for about 5 minutes, stirring occasionally.

Serve hot.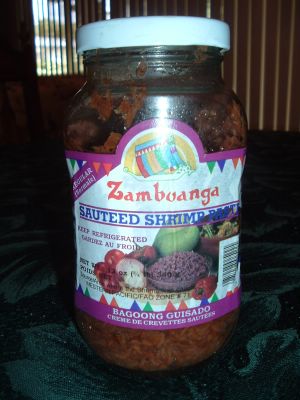 And I made sure that
Techguy
will not ask me about the bagoong again. Don't forget to serve your kare-kare with bagoong like the one above. (Okey ba manong?)