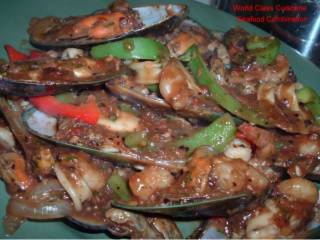 If you loved my Thai Chicken Curry, you will surely love this too. Lots of mussels, squid, clam meat and black bean sauce. This time with cilantro. 'just got so busy with my work but promise, 'will post my recipe.
__________________________________________
This is one of our Thai favorites. The mussels were intended for sinigang(my husband's dinner wish for the week) but I changed my mind. The prawns were from my freezer and the clams, abalone and squid were bought while they were on sale this week.

I have had several tries on this but never got the right combination until I cooked my Malaysian Chicken Curry. It just occurred to me to try blending the onions, garlic, ginger, cilantro and black beans together and use it as a sauce. Guess what? I'm in business!

Here's my recipe:

1/8 cup brown sugar
4 tbsp of black beans
ginger about the size of your thumb (or half if you prefer it mild)
2 cloves of garlic
1 onion (set aside ½ for sautéing and the ½ for processing in the blender)
¼ cup cilantro

2 tbsp of olive oil
1 bag of mussels about 1 lb (half shelled)
1 bag of seafood combination (about ½ lb of clam meat, sliced squid
1 cup of prawns
red and green peppers (julienne sliced)

In a blender, process the first 6 ingredients for about 5 to 10 seconds. I added about 1 tbsp of soy sauce to keep the blender going. Usually, if you are blending dry ingredients, the blender will have difficulty processing the ingredients evenly unless you add liquid to it.

Heat the oil in a pan. Saute the onions for about 1 minute. Add mussels, seafood mix, prawns and cover. Cover the pan and let it cook for about 5 minutes. Add the sauce and cook for another 2-3 minutes. Add the green and red peppers, stir, cover pan cook for another 1-2 minutes. Serve hot.

Enjoy!