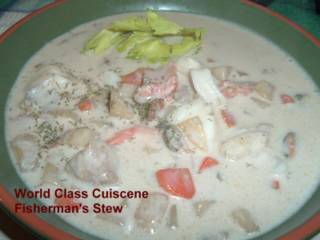 This is actually called Fisherman's Stew but blogger won't accept titles with apostrophes.

Have you ever had a problem on what to do with bits and pieces of seafood in your freezer? Well, here's an idea.

You will need:

About 200 gms of halibut
About 200 gms of salmon
About 200 gms of clam meat or mussels
About 200 gms of shrimps
About 200 gms of sliced calamari
1 tbsp of olive oil
1 onion, coarsely sliced
1 medium potato, cubed
1 medium carrot,, cubed
1 can of cream of Campbell's Cream of Chicken
2 cups of skim milk
1 cup of water

Steam the seafood for about 5 minutes from the time the water boils. Set Aside

In a deep sauce pan, heat oil and sauté onions until translucent. Add sliced potato and cook for about 2 minutes. Add carrots and cook for an additional 1 minute. Add Cream of chicken, milk and water. Cover pan and let boil. Simmer for about 5 minutes or until potato is cooked, stirring occasionally to avoid the cream from sticking at the bottom of the pan. Add the steamed seafood and cook for another 1 minute. Serve hot.
Tip: Add some dry dill weed if you want. Or ground pepper is also good. Any seafood actually will do..don't fret.