Ron is a constant silent visitor of my blog. He is a Caucasian who is contemplating on offering marriage to his Filipina girlfriend, Lilia who is from Luzon. He is trying to familiarize himself with the Filipino culture and our "infamous exotic food". He said he's been to Filipino parties but he is more interested to know what a typical Filipino family dinner is like.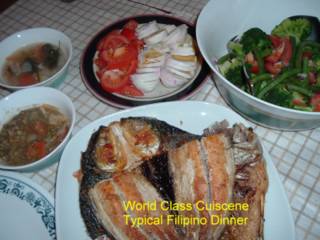 Well Ron, this is the closest I could give you. Contrary to what you see in my blog (a little tickled with your description), there are also days that I get lazy and my family make do with what is in the fridge. The pictures show that we love leftovers and for some reason, find fried fish close to a "must". In my opinion, we are used to frying fish for lack of ideas on how else to cook them. One thing I am sure though is, Filipinos love fish.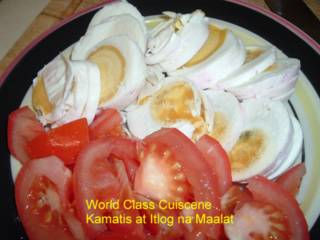 Yes, we also love eggs, fried eggs, salted eggs, boiled eggs, omelette and balut. I don't think your future wife will impose on you to have balut though. She will only attempt to let you taste it for experience' sake. Relax.

We do eat vegetables too. I am an explorer as all other Filipinos are. Just watch out for the dressing. I used bagoong here. We basically eat the same vegetables made out of green vegetables, tomatoes and onions. We only differ in the dressing. (Just kidding). I was more daring last night and thought of using bagoong. You see bagoong goes well with my fried fish. You did tell me that your girlfriend loves bagoong.
And oh, you mentioned that you feel disgusted everytime you see Lilia eat with her fingers. Mind you, it is not only in the Philippines where people eat with their fingers. They do too in Indonesia. I was at a Kentucky Restaurant in Jakarta and I ordered fried chicken with rice. I was a little bit shocked actually to be told I should eat my stash with my fingers. I was only shown where the sink was so I could wash my hands before I eat. At least at Kentucky Restaurants in the Philippines, they serve you with spoon and fork so there's really no reason for you to learn how to eat with your fingers for now.
You really made me laugh about your rice with spaghetti story or the pancit with rice. I know, they're all carbohydrates. Actually, in the Philippines, we consider pancit and spaghetti as snacks..yes like a "three-o'clock-kinda-thing". But we also have them as "ulam" (you did well in mentioning it).
Anyway, don't fret. Filipinas are resilient. You will notice that some of the Filipinas I "blog" with are married to men of different nationalities. Some are Britts, Americans, Canadians, Chinese and we play around with our recipes to make them appetizing to our palates. I am married to a Filipino (did I get you there?) but I spend at least 7.5 hours of my day, 5 days a week with Caucasians, thus the western influence in my blog.
I recommend these sites to you:
Kitchen for Filipinas
by Filipino women living in the Western Hemisphere and
Radical Chef
from the Philippines who is a lawyer but has the passion for cooking.
Generally, more than the concern about our food, consider offering marriage ASAP. Filipinas are loving and caring (wink, wink).