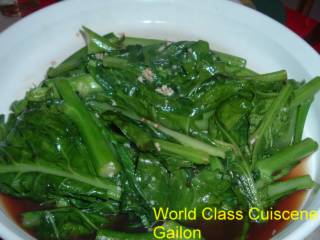 Gai Lan or in my receipt it was Gailon belongs to the variety of brocolli. I have not actually seen anything like this in the Philippines. It must be grown in China because we've come to know about this at a Chinese Restaurant. They are being sold in most grocery stores except that you wouldn't buy it if you do not know how to handle it. Noticing that this was a familiar order by a lot of Chinese at our favorite restaurant, we asked the waitress and so she gave us a short background about this and how it was being cooked.

My family is a family of inquisitive and daring people. We try anything and everything except for the snake blood that BongK is talking about. Believe me, my kids have tried adobong palaka already. Well, there are other exotic foods out there that we are saving for daring days.

There is nothing extra ordinary about cooking this. If you know how to boil kamote tops, you will know how to cook this too. No, this is not boiled. This is cooked in its own juice, if you may.

All you need:

1tbsp of olive oil
1 bunch of Gai Lan,
2 cloves of finely chopped garlic
5 tbsp of oyster sauce

Trim the Gai Lan like you would with camote tops, separating the stalk from the leaves and discarding the tougher stalks.

Heat the pan and oil. Put the Gai Lan, stalks first then the leaves and cover the pan. Cook for about 5 to seven minutes checking occasionally to make sure that ypu are not overcooking one side of the leaves and undercooking the other. Add the oyster sauce and garlic. Serve hot.

I believe that this is a good source of Folic Acid, helpful in carrying iron to your red blood cells.